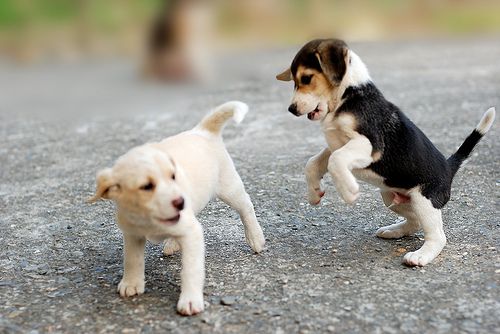 Puppy Social sessions are fun and educational for both puppies and their people! During these weekly 50-minute sessions, your puppy will experience critical socialization opportunities in a well-sanitized environment, learn basic body handling, and enjoy safe and appropriate off-leash puppy play time. Certified trainers and assistants will be on hand to guide you on doggy body language and what healthy play looks like, as well as how/when to intercede.
Puppy Social sessions are NOT drop-off sessions – you must stay and supervise your puppy, that's part of the fun! Pre-registration is mandatory – you can do so easily using the handy link below (no refunds or make-up sessions will be offered if you register and do not attend). Puppies should arrive wearing a flat buckle/snap collar or body harness and a standard 4 to 6 foot leash. Please note that retractable leashes (Flexi leashes), head harnesses, prong/pinch/choke/shock collars are NOT permitted. 
Current research shows that the primary and most important time for puppy socialization is the first three months of life. During this time puppies should be exposed to as many new people, animals, stimuli, and environments as can be achieved safely and without causing over-stimulation, as per the American Veterinary Society of Animal Behaviour. For this reason, the American Veterinary Society of Animal Behaviour believes that it should be the standard of care for puppies to receive such socialization before they are fully vaccinated.
Meet new people
Meet new puppies
Practice off-leash dog/dog social skills
Experience novel objects, surfaces, and sounds
Learn bite inhibition through play
Learn body awareness
Learn basic body handling
Your puppy should be between 8 and 20 weeks old.
First core set of puppy vaccines a minimum of 10 days prior to first session. Age appropriate vaccines following the first core set.
Bordetella vaccine (oral or intra-nasal) a minimum of 7 days prior to first session recommended but not required.
Participating puppies should not be overly fearful of people/other puppies and not guard people/food/toys.
Drop-In Puppy Socials
SCHEDULE:



THURSDAYS 7:00PM - 7:50PM
ONGOING THROUGHOUT THE YEAR

HARMONY TRAINING CENTRE
#104 - 20559 FRASER HWY, LANGLEY

CLASSES ARE HELD WITH COVID-19 SAFETY PRECAUTIONS IN PLACE
TWO HANDLERS PER DOG, MASKS RECOMMENDED/ENCOURAGED