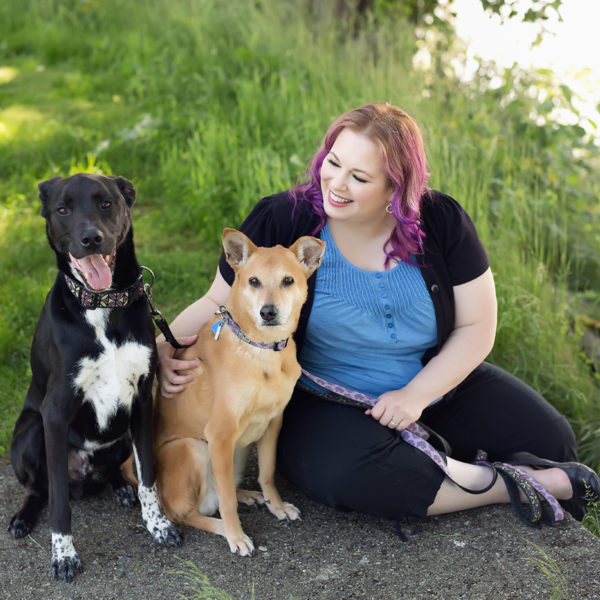 Owner & Head Trainer, Brigette Mayer, is a Certified Professional Dog Trainer (CPDT-KA), a Karen Pryor Academy Certified Training Partner (KPA CTP), a Puppy Start Right Preschool instructor, an Associate Nose Work Instructor (ANWI) through the National Association of Canine Scent Work (NACSW), a Fear Free Certified Professional, and a dog bite prevention educator. When she's not geeking out over dogs and the science behind animal behaviour and training, she loves to travel, drink craft beer and cider, and be involved in her community of Langley, BC.
Brigette's passion for animals began at a very young age. She grew up with a multitude of animals – many dogs, cats, and fish accompanied her through her early lessons and travels.
Brigette was first introduced to clicker training upon rescuing her fearful Formosan Mountain Dog cross, Lulu. Brigette saw first-hand the vast improvements made with Lulu using this method of fear- and force-free positive reinforcement and has been hooked ever since!
Brigette is currently owned by her spunky Icelandic Sheepdog puppy, Levy, and her cat, Maya (and has fond, everlasting memories of her heart doggo, Lulu, Jax, Hazel the Kitty, and Queen Calli Boo the Kitty). Brigette trains and competes in nose work and various other dog sports and she also clicker trains her cat for fun (and to reinforce the value of patience!)
Certifications & Accreditations
Brigette continually expands her knowledge and skill set through further educational opportunities and conferences.
Clicker Expo annual conference – Karen Pryor Academy
Annual conference – IAABC
The Aggression in Dogs conference – The Loose Leash Academy
Aggression in Dogs – Michael Shikashio, Aggressive Dog
Living and Learning with Animals for Professionals – Dr. Susan Friedman, Behavior Works
The Ranch Experience – Ken Ramirez, Karen Pryor National Training Center
Chicken Camp – Terry Ryan hosted by Kitsap Animal Rescue & Education